this professional sports team is trying to dismantle white supremacy culture in their sport
meet New York Gridlock Ultimate

Welcome to Still Out of Your League! As always, your subscriptions allow me to continue reporting stories I wouldn't otherwise be able to write. If you haven't subscribed yet, you can do so here:

New York Gridlock Ultimate is trying to dismantle white supremacy culture in their sport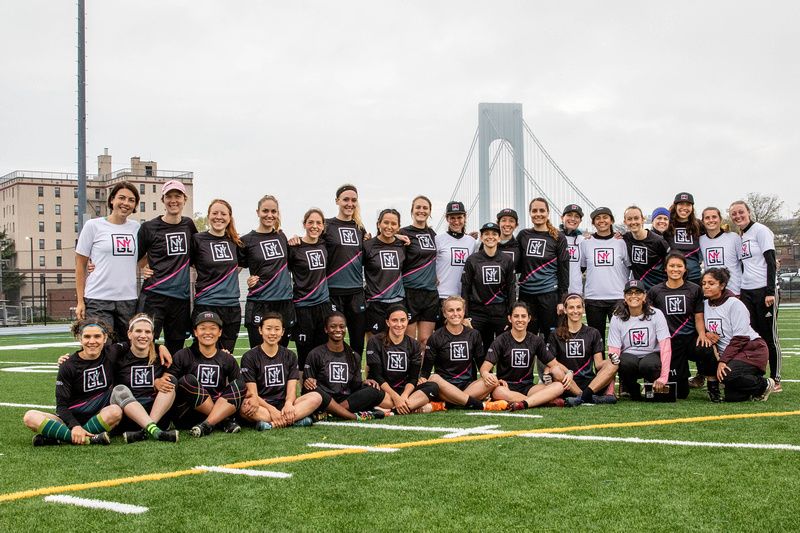 Photos by Sandy Canetti
New York Gridlock Ultimate is an Ultimate Frisbee team that plays in the Premier Ultimate League, the only professional Ultimate league for women, non-binary, and genderqueer athletes. It was founded in 2019, and 2020 was set to be its second season  — and then coronavirus hit.
I admittedly don't know a whole lot about Ultimate, nor do I actively follow the sport. I discovered the team when one of my Twitter followers alerted me to the decarceration campaign they were running on social media during the pandemic, ultimately raising over $10,000 as part of the #FreeBlackMamas campaign by National Bail Out, in collaboration/friendly competition with the Los Angeles Astra.
I spoke to Eileen Murray, the owner, General Manager, and coach of Gridlock, and Khunsa Amin, the Director of Community, Outreach, and Operations for Gridlock, about gender equity in Ultimate, why they feel its the role of a professional sports team to challenge white supremacy culture, and whether it's truly possible for a team of mostly white and cis athletes to do this work effectively.
This interview has been edited for length and clarity.
For people who may not know much about the sport, can you describe the game of Ultimate Frisbee?
Eileen Murray: The game is a team sport played on a 70-yard x 40-yard field with two 20-yard end zones. Points start with a pull — kickoff — and there is changing offense and defense like soccer so once play starts, it doesn't stop until one team throws a completed pass into their endzone. It's a passing sport so once you catch the frisbee, you establish a pivot foot and the only way to advance is by throwing the frisbee. There are four 12-minute quarters.
We have a roster limit of 27, but you can only roster 21 for any given game and we carry 3 practice players. Everyone who comes to play at this level has Ultimate experience, mostly in college teams or with leagues in their areas or on amateur club teams. Our season has five games, played in April, with a championship in June. The league had eight teams in its first year and was supposed to have 12 this season.
You have a pretty unique mission for a sports team, one that includes centering gender and racial equity and seeking accountability in community partnerships. Do you think players come to the team because of the mission or does that come later?
EM: I don't think people come because of the mission, they come because this is a new opportunity for people to play at a different level with a different level of visibility. We have amateur Ultimate leagues but there have only been professional men's leagues so a lot of people are coming into the Premier League as a way to increase visibility and access.
We do forefront our mission and at every tryout, at the end, we talk about what it would mean to be on this team, that you are dedicating to this mission, we are requiring outreach and continuing learning opportunities around equity.
Can you say a bit more about the difference between the amateur leagues and this professional one?
EM: Amateur leagues are pay-to-play so if you want to be on a competitive amateur team you are shelling out $3,000-$5,000 or more to play on that team because you are required to travel to tournaments put on by USA Ultimate, as well as uniforms and cleats and training. We are dedicated to making sure our players are not playing to play and, eventually, might even make some money.
Another big difference for the amateur team is that at a tournament, you're playing six or nine games in a weekend and it's hard on your body. We play one game on a weekend. I've spoken to some athletes who are a little older that like this format better because it's a lot less wear and tear on your body.
What does funding look like?
EM: Every team is a franchise so when the league launched in late 2018, I called an old friend of mine and we put in the seed money, along with a third owner. My partner, Julie Cook, pounds the pavement looking for sponsorships, so it is self-funding. At a league level, we hired someone who would be dedicated to raising money for the league. Before COVID, she had secured pledges of close to $50,000. New York is in a slightly different position because Julie and I are older and a lot of teams are run by younger folks who don't have extra capital so they will do GoFundMe campaigns, as well as a player sponsorship program with a Toronto-based uniform company that VC Ultimate runs, which raises like $10,000-$12,000 per team.
I notice that the website and mission are explicit that trans and non-binary players are welcome on the field. Is that gender inclusion team-specific or league-wide?
Khunsa Amin: It is league-wide and was an intentional choice on a league level. There is also a conversation happening on Ultimate Twitter about 'why is the same standard not being applied to the men's league?' At the very least, we have control over what we can do with the Premier Ultimate League and we can only hope the American Ultimate Disc League (AUDL) wants to get their act together.
EM: One of the things Khunsa has been doing is having focus groups with non-binary and genderqueer players for us to better understand what a space would look like that they want to participate in.
I see on the website it says, "Additionally, there is no requirement for a specific level of estrogen, hormone replacement therapy prescription, or gender affirmation surgery in order to be eligible for the team." In other women's professional leagues, like the NWHL, trans men are allowed to play but cannot be on hormones to do so; Harrison Browne left the league so he could go on testosterone. Are non-binary or transmasculine players on testosterone allowed to play in the league?
KA: In theory, yes. It's something we are working on with our focus group members to figure out how to realize that and make that space for the few non-binary players that are currently in Ultimate —  and one day, hopefully expanding to a larger subset of the community.
Ultimate is a fledgling sport and we have so many possibilities to get this "right" and that's especially true for this league going into its second season. The thing with the mission statement is part of it is sourced from work I did with Athlete Ally and that wording was meant to be as maximally inclusive as it could be and leave room for revisions year-by-year because the topic of gender constantly changes. What was considered inclusive last year is being revised this year, because of the work we are doing with that focus group of non-binary and genderqueer athletes. We are aware that the team is predominantly cis right now, so figuring out what that looks like on the field and how we can work towards a more inclusive Ultimate. It's really exciting to hear what "Dystopian Ultimate" can be because we have to destroy the gender binary and construct something new.
One of the things that we have been using is "womxn" with "X" and the reasoning was to differentiate the space or make it explicitly clear that it is trans-inclusive and different from what TERFs have been doing with "womyn" with a "Y." The "womxn" work was done in 2018 and we are looking to revise it because the way it is phrased has given non-binary and genderqueer folks the impression that they are being put under umbrella whether they identify with womanhood. So we are talking about what this word does by trying to be inclusive but instead making folks feel excluded.
We are working on full-scale revisions on the mission statement, but we have come to the understanding that we want to scrap "womxn" and just explicitly spell out "women, non-binary, and genderqueer athletes."
I've seen the digital decarceration campaign you just ran, which we will talk more about in a minute, and which obviously came about because of the pandemic. What does a normal season of community engagement look like?
KA: My goal this season was to be more intentional about youth outreach and being very aware of the dynamics that are present in NYC. So being aware of the issue of gentrification and how we're doing outreach in terms of being a predominantly white and cis team, and asking questions about why we are trying to go into these communities to do outreach and asking if we do go in, what are we giving back in return that's outside of Ultimate. A lot of work I did outside Gridlock is coming into neighborhoods with permits and running clinics and then there not being any sustained presence and it felt very invasive and that's something I think about a lot when trying to think about community outreach with Gridlock. There are so many things to consider in that aspect that we didn't get to figure out. We did end up building a partnership with the Bronx Parks and Rec Department, and our third home game was going to be in Inwood and we were going to try to get kids from the Bronx Parks and Rec to come to games and have the athletes coach them on a weekly basis.
EM: Khunsa recently ran a webinar about examining the white colonial lens on youth outreach in Ultimate. I told players I would support them in taking this webinar and, as an owner, it's our responsibility to offer up opportunities for players to learn and 10-12 players participated. I've been exploring with my two other coaches what does continued education look like and how can we better prepare ourselves for next season so we aren't playing catch up and figuring out what that education looks like?
Tell me about the digital campaign you just ran. Why decarceration?
KA: As covid was hitting, there was a rise of mutual aid campaigns popping up and I was seeing that players on the team were somewhat struggling to see where they fit into the landscape of utilizing their privilege during this time, like how they can help. One thing that has been a topic for me and Zara [one of the coaches] was the situation with [the outbreak in] Rikers and policing in NYC is something we talk about even pre-covid, and it was obvious about organizing needing to be done around bailing people out. It coincided with the #FreeBlackMamas campaign.
We decided to amplify their work as our main base campaign because it's one of those campaigns that has a really low barrier to entry so, at the very least, you can donate and that's one level of engagement, and at a higher level we wanted to do education about decarceration. So, what is bail and what bail reform efforts are happening in New York and New Jersey? We did an educational campaign in the tristate area to educate folks about what is going on in terms of bail in their states, along with two to three actionables.
I also noticed that you created a space for BIPOC players following the Ahmaud Arbery and Sean Reed shootings? Why was that done?
K: That came from a place where I had this friction with youth outreach and how it is approached in Ultimate by a predominantly white community and one of the pitches is that youth is our future and we have problems right now, but if we diversify our youth, our future will look better. But it ignores all the facets of taking care of the BIPOC folks who are in our community right now. I had conversations with BIPOC and Black friends who were really hurting in that moment and were not having the bandwidth to care about Ultimate. There was such a stark difference, we are all communicating on social right now and our presence is being recognized what we are putting out and it highlighted the disparity in the priority for white folks in the Ultimate community. The processing space for BIPOC folks to talk was needed and one of the things we did with it, our facilitator Lisa Gray, did racial caucuses and we had separate breakout rooms for Black players and NBPOC players so we are not doing hashing up of trauma porn when we are trying to create a space where we are trying to take care of our Black community members.
I have a background in organizing and activism and the work and language you all are putting out is really on point. Is there an activist involved with you all?
EM: I have ideas and know what I want to do and don't know how to do it. Khunsa wrote our mission statement and has been a critical part of our development and we were lucky to be able to dedicate funds to hire her as an employee of the team this year.
How many hours per week are you doing work for Gridlock, Khunsa?
KA: Some weeks are busier, but 30 hours is probably the most. But now it's not as busy because of covid. I do this as Director of Ops, and I'm a facilitator with a collective of facilitators called Both/And, examining white supremacy culture and doing anti-racism work. We are a diverse group of facilitators. And I'm a physicist by training.
We need more anti-racist physicists! How does Ultimate intersect with these issues? A lot of people will say to keep politics out of sports, but you are explicit about practicing them. Why?
KA: We're affiliated with the sport of Ultimate so it happens to be the nature of the sport we're participating in but there are some aspects, particularly of mixed Ultimate, where there's the possibility to think outside the binary in terms of what Ultimate can look like. There have been some gender disparities in Ultimate so there was a gender equity movement that launched and it led to wider talk around organizing from a racial lens and the dominoes began to fall over.
EM: Speaking from an owner's standpoint, I had been participating in men's professional leagues for four years before this league and my experience in men's was challenging. Around that same time, a gender equity movement started where people started boycotting because of disparity in who was being highlighted and women and non-binary players were being erased from the sport. I witnessed a lot of toxic masculinity in the teams I was coaching and so we said, 'let's do this women's league and what do we want the mission to be?'
We already had the idea of gender equity but it's also a very white sport. Most people get introduced to it in college and that dictates who gets to play. A lot of youth programs are in affluent areas, so we realized we can't look at gender equity without looking at people's intersections. So our mission became about gender, race, and socioeconomic status because we saw them as interconnected and affecting what our sport looked like.
What's next?
EM: We want to do another campaign and we still are trying to figure that out based on lessons learned from this one.
Follow New York Gridlock Ultimate on Facebook, Twitter, or Instagram!