do you want HAIL MARY bonus content? of course you do!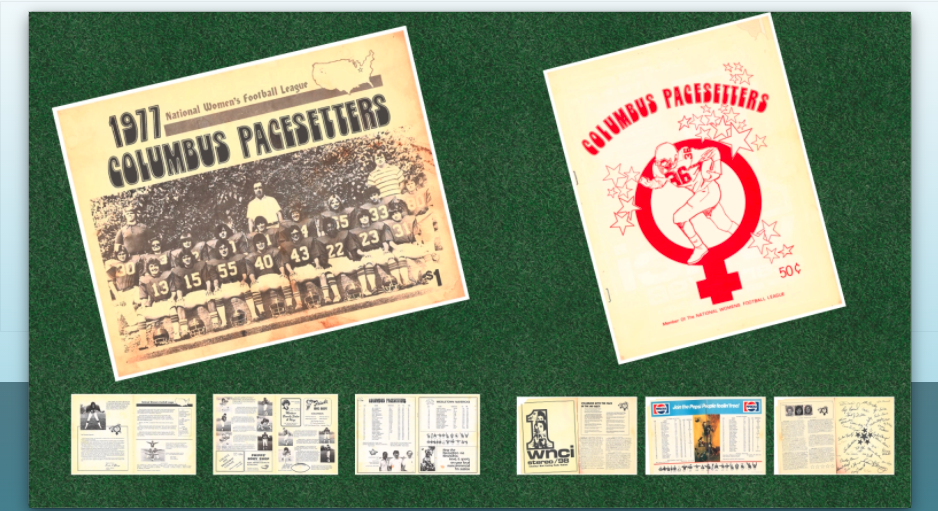 Hi, friends! I would apologize for being quiet in this space, but I'd like to think it's understandable. I've had book stuff going on, it's a pandemic, etc etc. So I'm not going to apologize and, instead, I will jump into some exciting updates (which will be coming your way fairly regularly for the next month or two. Get ready for all HAIL MARY all the time!).
---
Pre-Order Promotion!
We are really excited to be able to offer bonus material for people who pre-order HAIL MARY! If you order the book before November 2, you can receive two digital copies of original NWFL game programs.
I know I'm probably biased but these programs are incredible. They're what you would have received if you had attended an NWFL game in the 1970s.
If you've already pre-ordered the book, you can head to the HAIL MARY page on the Bold Type Books website (here) and upload a picture of your receipt to get the content. If you haven't pre-ordered yet, no worries. The offer is open to anyone who purchases the book before November 2.
You can see previews of the programs in the header image above!
---
While you wait for the book...
Lyndsey and I have been dropping nuggets on Twitter as we get closer to launch. One of those features is a weekly tweet for NFL Sunday and makes direct links between the NWFL and the NFL. I generally don't care much about comparing women's and men's leagues because I don't think women's leagues need to be comparable to men's in order for them to be valid, significant, or successful. But in this case, I think it's important to understand just how intertwined the histories of the NWFL and NFL are in order to see the full impact that the women's league had on the game as we know it today.
You can see the thread of tweets we've released so far here, and keep an eye out for a new one each week until pub day!
---
What I've Been Writing
I haven't published much freelance content lately, but I have recently had two pieces go live.
For Global Sport Matters, I looked at why calling athletes who give birth "superwomen" strips them of their humanity & erases the systemic barriers they're up against, & how it's athletes themselves reframing the convo about what birthing athletes deserve.
Giving birth is neither superhuman nor extraordinary; it is, in fact, very human and extremely ordinary (if, at times, dangerous). To lose sight of that fact is to strip athlete mothers of their basic humanity; to further contextualize sports as a masculine sphere where women don't truly belong; and to gloss over the ongoing failure of teams, leagues, and organizations across sports to provide adequate support for elite athletes who also want or have children. Not all people who have children are women, but it has predominantly been women athletes who have been negatively affected by this narrative.
And for Mic, I wrote about how films like 144 & LFG make athletes visible as workers involved in labor organizing efforts, & how that visibility can boost the labor movement as a whole.
"We characterize sport as play, and we view those who play sports for a living as privileged and fortunate. That makes it difficult, for both the athletes and the fans, to understand that professional athletes are in fact workers."
---
COMING SOON: EVENT DETAILS FOR THE LAUNCH OF HAIL MARY!