What happened to The Athletic's WNBA vertical?
the vertical was built on the reputations of the women they hired — then pushed aside

Please consider subscribing to allow me to continue to do this kind of work, work which I am unable to place in the current climate. I pitched this story to seven publications — some sports and some media and some women's media — and was, unsurprisingly, unable to find it a home ("due to budget cuts, sports media stories are a luxury for us right now;" "this is too sports insider-y for us;" "we can't justify taking this on right now"). There are so many stories that need to be told but will not be, whether it's because of coronavirus-related budget cuts, publications that are only running corona-related material, or the decimation of the sports media landscape. Your subscription will let me keep doing crucial work like this.

What happened to The Athletic's WNBA vertical?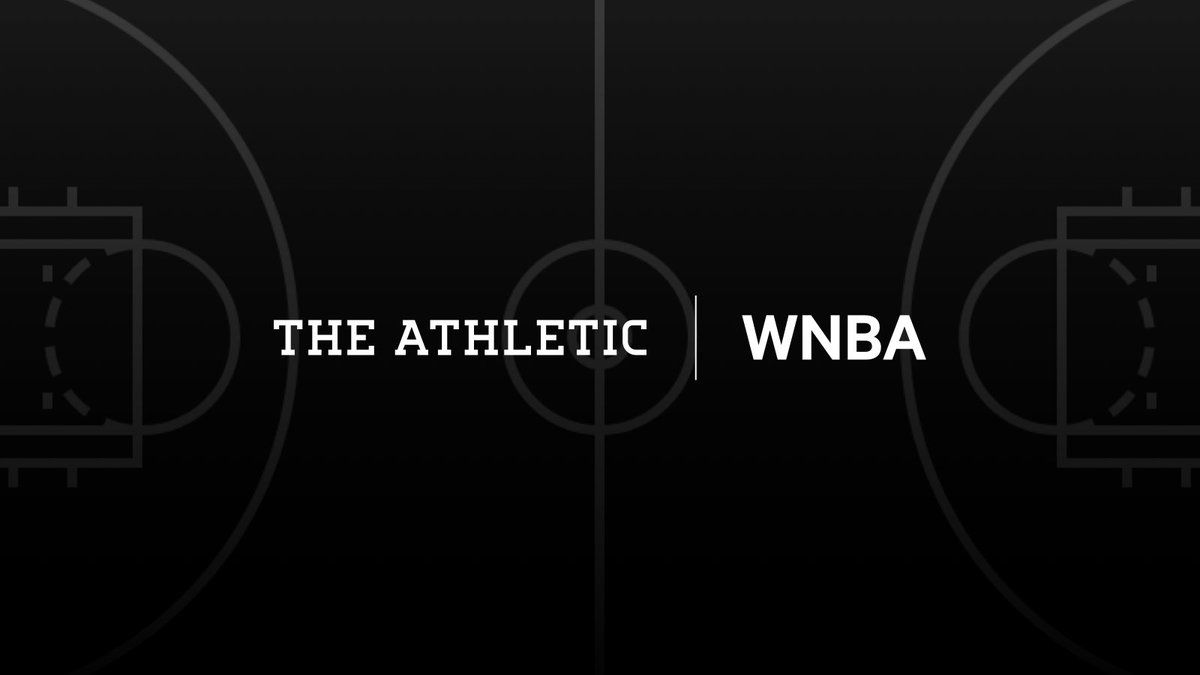 photo via @TheAthleticWBNA on Twitter
EDIT: you can read my follow up reporting responding to a statement The Athletic gave about the situation here.
Before the 2019 WNBA season, The Athletic, the subscription-based sports website known for poaching big names with big bucks, announced that they were launching a WNBA vertical with an all-woman team: a woman would edit, there would be 12 beat writers — one for each team — and two national WNBA writers to cover larger league stories. "The longest-running women's professional sports league is bursting with good stories and we're going full-court press," editor Hannah Withiam wrote. "Bank on it."
It was a surprising turn for the platform, which had been criticized since its launch regarding lack of diversity and lack of women's sports coverage (including by me). They promised that their plan was to establish themselves and then add more diverse staff and coverage of women's sports. On the surface, they appeared to be making good on that promise, and the announcement was met with a lot of excitement on Twitter (the site has also added Meg Linehan full-time to cover women's soccer).
But when the pandemic hit, it was those women — the WNBA writers — who became the first casualties of (presumed) budget cuts at the publication. That's because, despite outward appearances, all the WNBA writers — aside from Withiam, the vertical's editor — were freelancers (this season that would be changing for at least one of the writers; The Athletic hired a full-time writer to cover Connecticut women's basketball, which includes UConn and the Sun).
The writers say they were never even told by the company that their freelance work was being "temporarily frozen;" they found out on social media, when it was reported by The Big Lead. Shortly thereafter, they lost access to their Slack channel with no notice from the site aside from an automated email from Slack 24 hours before their access was shuttered.
I spoke to seven of The Athletic's WNBA writers, most of whom requested anonymity in order to speak freely about a publication they hope to one day write for again (The Athletic did not respond to multiple requests for comment).
"I feel expendable. What was the point of bringing us all on if in the end they were going to act like this?" says one beat writer. "There's not a huge market for women's sports coverage— for W coverage— so I can't say, 'I'm going to go work for this company now.' I'm stuck with what I have until I can cover the league like I want to for somebody else. It's a lose/lose for us."
---
The writers were preparing to cover the draft — it was going to be a big one, with Sabrina Ionescu, who had broken records at Oregon, expected to be the number one draft pick, and the draft was airing on ESPN. It would be the writing team's first draft for The Athletic, since the vertical was launched too close to the beginning of the 2019 season for writers to have covered it last year.
Then, on March 20, the Big Lead reported that the publication "made the decision to temporarily pause the contributions of freelance reporters whose work depends on the coverage of live games." The WNBA writers specifically do not do game coverage; even still, they were among the writers whose contributions were frozen (it's unclear how many writers this impacts across the company, or if there are any other verticals composed entirely of freelancers).
"I had lost media jobs before so I wasn't immune to how cutthroat it can be," one beat writer told me, "but I was like, Did I really just find out on Twitter that I lost my job?"
On March 16, an email had gone out to subscribers assuring them that coverage would continue as usual. The WNBA freelance contributors, who were considered beat writers for their respective teams, received no communication from the company or from their direct editor to indicate that anything would be changing for them. Just four days later, The Big Lead's story dropped.
"There was no forthcoming communication," says Tamryn Spruill, one of the national WNBA writers. "When I was going back to seek information [from higher ups], none of the answers were satisfactory or contained compassion. The handling of this felt cruel and unprofessional." Other writers also said that they felt the communication was handled poorly, that when they asked questions, they couldn't get clear answers, and that they had to chase down any information they did receive.
Then, on March 31, the WNBA writers received an automated email from Slack informing them that their Slack accounts were going to be deactivated the following day, April 1. "This system update, which has been in the works for several months, does not impact or reflect your standing with the company," the email, which was provided to me by several of the writers, said. It's unclear which other writers were affected by the Slack consolidation; multiple full-time staff writers confirmed to me they still had access to their Slack channels.
"I can't say I'm pleased with how things were handled and certainly no one likes to be on the outside looking in for a really big draft for the W, and I don't think that's overstating it," says Erica Ayala, the New York Liberty beat writer. She was able to get a freelance pitch accepted to cover the draft, writing a story about Ionescu and the Liberty, but she was the only freelance contributor writer asked to provide content aside from a mock draft written by national WNBA writer Lyndsey D'Arcangelo.
The draft happened on April 17. On draft night, Wings beat writer Dorothy J. Gentry tweeted that she had "spent most of the day in tears."
"All of our hard work this whole year starting this vertical, building those relationships, covering the whole season and then the biggest stage for the league - we didn't even get to cover the WNBA draft," one of the beat writers told me.
That night, The Athletic's media writer, Richard Deitsch, sent out a tweet telling his followers to follow The Athletic's draft coverage — good! — and solely crediting the vertical's editor, Withiam, for that coverage — oof. Writers were understandably hurt and felt erased from their own work, from the vertical they had helped launch.
"I'm thankful he mentioned Hannah and I appreciate what Richard was trying to do to bring attention to the W, but Hannah brought in 15 of us total and I didn't want them to feel unappreciated," says Ayala.
And so Ayala sent a tweet in response, tagging all the women who helped launch the site.
"I felt that, given that staff writers had already started taking over women's basketball coverage leading up to the draft, thinking back to the 12 women who started that beat, I didn't want that to be lost," she says. "I wanted to take a minute to honor and thank the group of women who helped start that vertical. At a time when sports were having a difficult time, the W was able to find a way to forge ahead and The Athletic had a sporting even to cover. For almost none of us who started that vertical to see it through all the way to what would be the first draft The Athletic was covering didn't seem right."
It was the tweets on draft night that brought the issue to the public's attention — including mine.
"I hate that they've kind of been erased and their voices lost (from that platform, anyway)," Esi Hutchful, an Athletic subscriber from Sacramento, California, told me via DM. "They did the work to raise the women's basketball profile and now won't benefit from that foundation. And the point of view they brought is gone, especially given many of them were women of color and women's basketball is largely Black women."
---
The WNBA vertical was built on the names and reputations of the writers they hired — writers who had been working the women's basketball beat for years, who had connections and knew the league inside and out.
"Seeing Erica [Ayala]'s name on a byline means a couple of things for me," says Jackie Powell, the Liberty beat writer for High Post Hoops. "First, it provides me with a certain level of trust because I know of her knowledge of the franchise and its history. And two, I know she genuinely cares about covering this team properly rather than them being an assignment they were given."
By giving that over to mostly white, male staff writers, they benefit from the reputation of the vertical built on the backs of a team of women — many of them women of color, many of them queer women. These writers benefit not only in readership but with athletes and teams who hear "The Athletic" and consider themselves to have an established relationship with the respected publication. However, when a new writer begins to cover a team, it "means you're re-starting relationships, trust, etc," the PR director of one WNBA team told me.
"They put all contractors on suspension then took our beats and gave them to full-time writers who needed something to do with their beats gone due to coronavirus — that's how it looked," said one beat writer.
At the same time, the writers themselves are losing the access that comes with writing for a big-name publication. "When you write for a certain outlet, you are provided with a little more support [from the teams] than you might be if you write for a smaller blog or you do something independently," says Ayala. "I know that because I came up through the ranks and I have seen my access change depending on the outlet I'm writing for."
Because the WNBA has been historically undervalued as a beat, stories at mainstream publications are often written by writers with little to no background on the league. They may be fantastic NBA writers, but can't possibly write the kind of story that someone who follows the W could write.
I cannot imagine someone who had never covered the NFL being sent in to write a story about the New England Patriots' draft prospects, for example. It would never happen.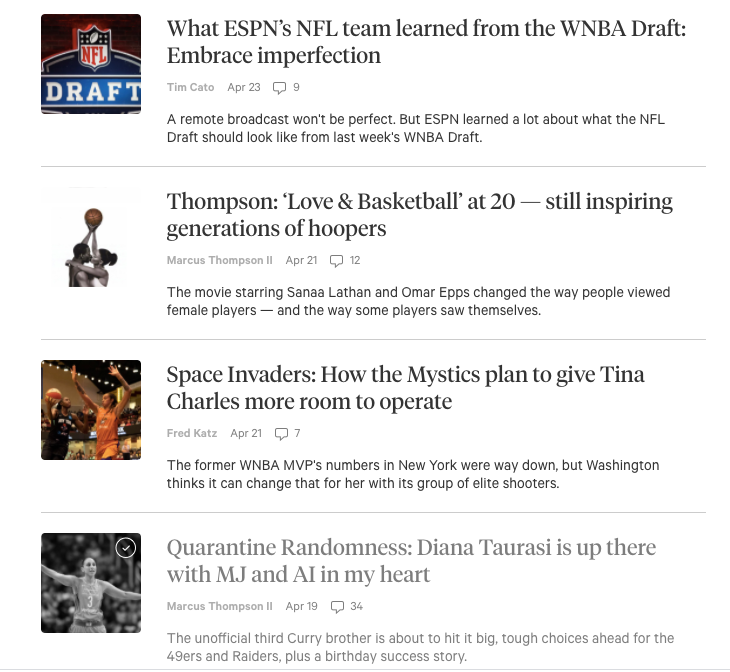 The Athletic's recent story on the New York Liberty's trade of Tina Charles is a good example of that. Instead of being written by Ayala, who has covered the team for years, even before she landed at The Athletic, it was written by Mike Vorkunov, The Athletic's Knicks beat writer (and a great NBA writer!). "What I see is very surface-level reporting," says Powell, the High Post Hoops Liberty beat writer.
"Asia Durr was injured in most of 2019, but of course she gets a mention. There wasn't even a mention of head coach Walt Hopkins and his plans for the team. Powell says. "There wasn't a mention of previous reporting that was done about Tina in general and how rumors of her being traded had been swarming around for months.
"While it was written well with a really punchy lede, it just felt like a lot was missing. There were a lot of holes in this story, and when you have someone who really isn't super familiar with the team and with their general manager, that's what is going to happen."
If the publication thinks that readers will not notice the declining quality of the coverage, they're wrong.
"I sent an email on Tuesday the 14th to The Athletic about how I was disappointed at the lack of WNBA coverage days out from the draft," subscriber Peter Kilkelly told me. "They ended up having more in the days right before the draft and after, but not by the usual writers. The NBA coverage is fine, I read some of it, but I can get the same content for free elsewhere. The WNBA coverage was harder to find and made the subscription worth it. It's been ok, but not as good as it could have been. I know when my subscription renews and how they cover the WNBA will decide whether I renew."
There are currently no women of color — no Black women — covering the WNBA at The Athletic right now, a league which is 88% Black or women of color. It's something that hasn't escaped readers' notice, either.
"I have noticed that almost all of the bylines about the W have been by men lately. And the content has also been more bland/shallow to me," says Trine Pedersen, a subscriber from Copenhagen, Denmark. "I subscribed because I wanted more quality content about the W but a large part of what attracted me to the site was the women writers - specifically women of color."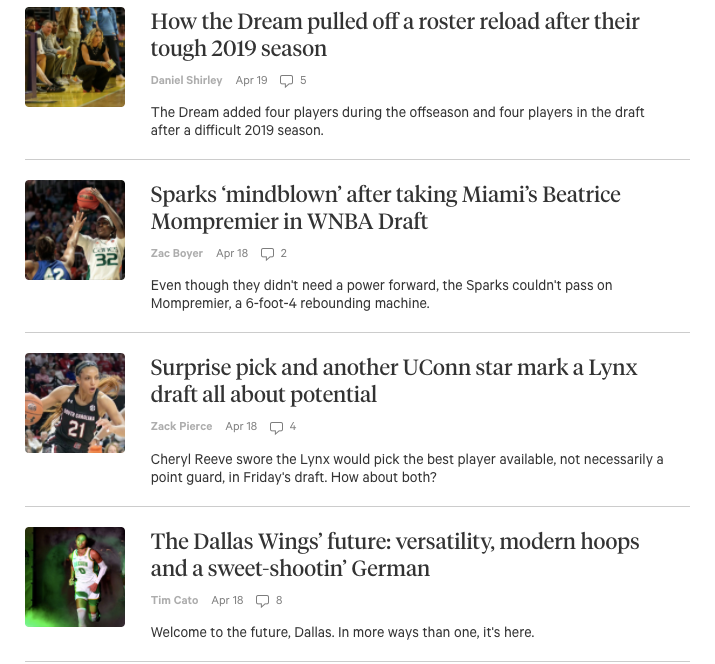 And fans are now grappling with whether it's worth keeping their subscription.
"As a relatively new basketball fan who only came on around late  2018, the WNBA vertical was really exciting to me and helpful. It was one of the few places I could go, especially as a Black woman myself," says Hutchful. "Now I just feel icky. Honestly, I didn't read any of The Athletic's draft day posts because it felt wrong once I knew what happened."
---
Maybe this is all temporary. Maybe the beat writers will be brought back once the season starts again. But what this move on the part of The Athletic has shown is that, while they gave lip service to wanting to cover the W and expand their women's sports coverage, they weren't willing to commit to it.
"The Athletic says they'll bring us back when the season returns but I don't trust that," says one of the beat writers. "They pushed us aside, dismissed our hard work getting their vertical in the public eye, getting them subscribers, making them popular, and then gave it to their full-timers."
"It's all so avoidable," one beat writer said. "The Athletic would never ever treat NBA reporters like this, NFL reporters like this, the big national writers like this. They would never just shut them out so why, when you want to be at the forefront of W coverage and you want to make it seem like you're doing something no one else has done by presenting the league in a whole new way, go and treat the people who put in the work like this?"
The company may say it was to cut costs during the pandemic — after all, at a subscription-based company, one must wonder how long people will be willing to pay for a publication when there are no sports to cover. With the media industry collapsing under the weight of the pandemic and roughly 36,000 media workers losing jobs or getting pay cuts, it's an easy and potentially believable scapegoat.
But the WNBA writers were costing the company hardly any money. At least one writer told me she offered to take a temporary pay cut or continue writing for free until the season started. But what the company choosing to save some dollars in WNBA-related freelance fees does do is show exactly which coverage the publication values and which it doesn't. It also shows which subscribers it values — many people ponied up the money to subscribe to The Athletic last season after they launched the W vertical because it was so rare to see good coverage of the league. By cutting that coverage first, they're telling those subscribers they don't care to keep them.
If The Athletic was going to launch a vertical, assign beat writers, and create the optics that they were committing to covering the WNBA, why not commit all the way and hire those writers on a full-time basis, like they do for every other sport?
"I would hate for it to come across as though [adding women's sports coverage] was something that sounded good but wasn't something the company was prepared or positioned to really have as part of their culture and part of how they do their business," says Ayala. "If I or any of the other writers get the opportunity to return, I would hope that there are positions for women, for women of color, for Black women, that are going to allow us to provide stable consistent thorough coverage of the W and I don't think that's the case right now."
On the plus side, there is still coverage of the league at the publication. But it was the women who built the vertical who were deemed disposable or non-essential. It was the women who built the vertical who were erased from their own work on draft night.
All of the writers said they would go back if they were asked, but they all had reservations about the company itself — whether it was their continued lack of diversity, the way they were treated during pandemic cuts, or communication all around.
"I would write for them again but I wouldn't be doing it for myself or The Athletic," says one of the beat writers. "I like storytelling and the freedom The Athletic afforded me, but it would be strictly to share stories of these athletes, the league, the coaches, to increase exposure, and give the thoughtful analysis it deserves. I would be back for the W — not for The Athletic."