long time, no talk
I wanna tell you where i've been (& where i'm going next)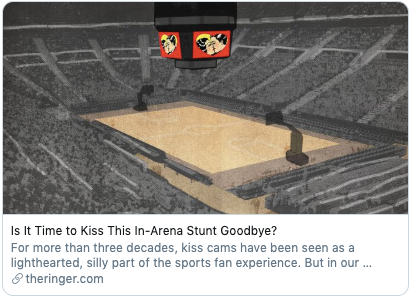 I know it's been a while since you last heard from me. That's because this newsletter started as a way for me to send out stories I published and give a little "story behind the story" about them. It was supposed to be a way for people without Twitter (the only social media I use to promote my work) to be able to follow the work of me, a freelancer whose stories don't reliably appear in the same place.
But a funny thing happened in June: I separated from my husband. I won't share much detail here, except to say that I'm gay and there came a point where I couldn't remain in a partnership with a cishet man any longer. Over the next six months, while dealing with moving out, untangling our lives, co-parenting, and adjusting to life without my partner of almost 10 years, the creative part of my brain just… shut down. I only published a few things in the second half of this year, and even then, I didn't have the energy to talk about them in this newsletter.
And so the newsletter designed to share my work went quiet because there was no work to share.
Now, it's the end of the year and I'm looking ahead to 2020: my book manuscript is due in May. I have some exciting stories lined up in the queue. I had an offer accepted on a condo of my own and am hoping to close on it by mid-February; I'm terrified of having to pay my bills as a freelancer without a partner with a stable second income. I know that writing a book means slowing down the freelance hustle that I would normally pick up to try to make more money.
I'm planning to restart this newsletter as a place to share the stories behind my reporting, as well as anecdotes that don't make it into the final pieces and sneak peeks of the stuff we're finding for the book. I might write some personal stuff, too, as I transition to a new chapter in my life.
In order to support myself while I try to make ends meet financially after my divorce while also trying to write a book, I'm going to be adding a paid subscription option to this newsletter. It will help me tremendously! Also, I think the content will be interesting for anyone who likes things at the intersections of sports and gender and queerness.
---
Now, I want to share with you my favorite stories of 2019 and a little about each one. Expect more of this kind of stuff in 2020. I'm ready to write again, if you'll have me.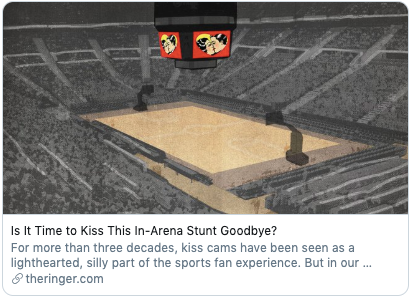 My first piece of the year was one of my most-talked about; it predictably pissed off people like Clay Travis and I was called all kinds of names, like "uptight" and "snowflake." I wanted to explore the kiss cam through a new lens, specifically, consent culture. I'd always been uncomfortable with the idea of two people being put up on a Jumbtron for tens of thousands of people to see and expected to kiss. Not only are there a lot of assumptions being made about the relationship between the two people, it felt coercive to me. I dived deep into it all (and was surprised when I put out a tweet simply asking for people who had been on a kiss cam to DM me with their experience and many of the people who reached out had had negative ones), going so far as to ask a lawyer whether it met the legal threshold for coercion (answer: probably not, because coercion requires instilling in the victim the fear that if the demand is not met, the offender will do something like cause physical injury or damage to a property). There's also some yikes quotes from someone at the Titans about why they don't put same-sex couples on the cam, details on a woman's contingency plan for getting caught on the screen, and more. There's truly something for everyone in this one. (Rate, for transparency and solidarity with Study Hall members: $0.50/word, $2,125).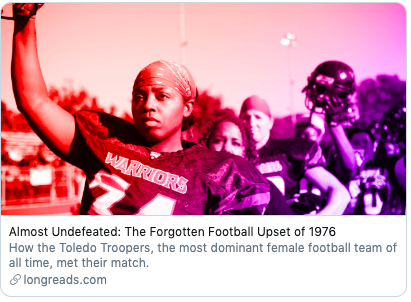 In 2019, I started writing regular sports "columns" for Longreads. I put that in quotes because it quickly became apparent that the scope of these stories was much larger than a typical column. Really, they're reported longform feature stories. My second one of the year ended up helping me and Lyndsey D'Arcangelo secure our book deal with Bold Type Books. It tells the story of the first time the winningest team in pro football history lost a game — six seasons into their existence, the Toledo Troopers of the National Women's Football League finally lost, to the Oklahoma City Dolls. I went back and recreated that game, talking to players from both teams and marveling at how they remembered specific plays, almost 50 years later. The piece also tells the story of the rematch between the Trooper and the Dolls later that season, in the championship game. To this day, the outcome is disputed, and it was declared a tie after the fact. But players on each team remain convinced that their team was the real winner. (Rate: $750)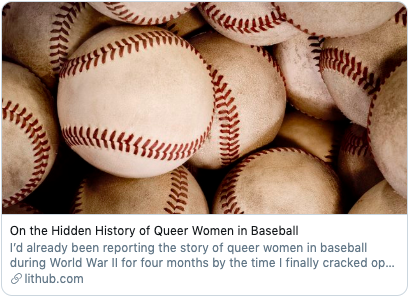 Last year I wrote the most viral story of my career thus far: "The Hidden Queer History Behind A League of Their Own," which looked at the queer women who played baseball in the All-American Girls Professional Baseball Leauge during World War II (and was a notable in this 2018's Best American Sports Writing!). The reporting of that piece was broken wide open when I decided to look through obituaries for players in the league — an idea I got from reading a historical fiction book. But while I understand queer history as being vital and while I see it as important to not allow ourselves to be erased or written out of narratives, I also had a lot of ethical questions to consider when writing the piece. I explored those questions in this essay for LitHub, asking how obituaries can help us do historical research and when that research shows us things we might want to leave in the archives. (Rate: $200)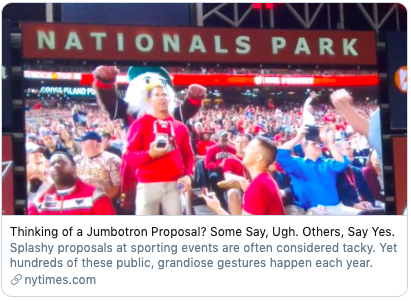 I am a well-established hater of Jumbotron proposals at sporting events. But I reported two stories this year (one ended up getting killed) that changed my mind. This is one of them, and it ran in the Sunday Vows section in print (with a much better headline than the digital version) which I still can't quite believe. It's a good example of thinking creatively about how and where you're pitching your stories. I've had three stories in the New York Times, all about sports, and none ran in the sports section. This piece, about proposals, I pitched to Vows instead of the sports section. It worked! What I loved about this piece is that two of the three couples I featured in it were gay, but the piece isn't about gay marriage or gay proposals. They could just be in the story. The other thing I loved is that, as I mentioned above, I no longer hate these proposals. Everyone has a story, and it's hard to remain cynical about something that brings people so much joy. That said, I would still be pissed if anyone ever proposed to me this way. (Rate: $1,000)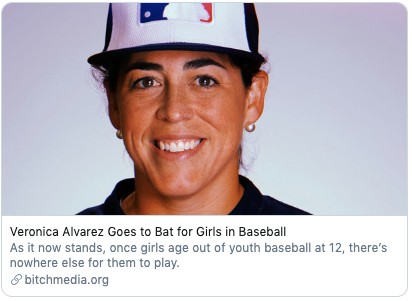 For the HEAT Issue of Bitch, I profiled Veronica Alvarez (the illustration in the print version is GORGEOUS). Alvarez is a Cuban-American from Miami who spent a decade as the catcher for the U.S. Women's National Baseball Team (bet you didn't know we had one of those; author Jennifer Ring calls it "the best kept secret in sports"). She's now a coach for the team, as well as being the first woman to coach at Oakland Athletics' Spring Training, and an advocate for girls in the game. This is a good example of a person on a beat knowing what might work best. My editor at Bitch, Evette Dionne, emailed me and said they thought something on baseball might work for the "HEAT" issue and asked what I thought of profiling another woman, one whose name is often dropped when girls and baseball are brought up. I had a better idea: Alvarez, a woman of color who is a firefighter by day and from Miami — hot in so, so many ways. (Rate: $1,000)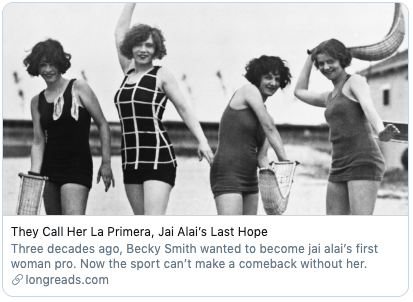 This is probably my favorite story of the year (read my newsletter about it here). I tracked down Becky Smith, who tried to become the first female professional jai alai player in the mid-1980s. When I found her, it turned out she was just about to accomplish that goal, 30 years later. It's a story that involved incredible, lucky timing. I'm just waiting for the movie deal now. Anyone? (Rate: $750)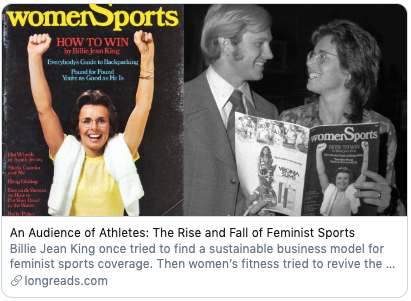 The story for which I interviewed nearly a dozen people, read years of magazine archives, and ultimately, talked to Billie Jean King. This is the story of womenSports magazine, BJK's magazine from the 1970s. Read the behind-the-reporting newsletter here. (Rate: $1,000)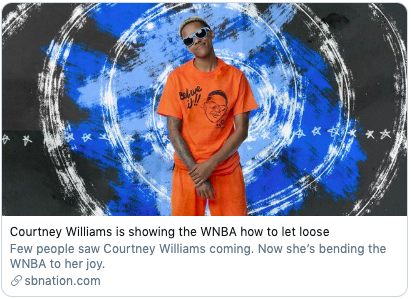 Ah, the profile that resulted in me being very, very smug during the WNBA playoffs this year. The profile I pitched to a bunch of places, only to have it shot down (one person even told me Williams didn't have the personality to carry a profile). When she became the breakout star of the playoffs and people were scrambling to cover her, I smugly posted my favorite (very detailed) rejection email. Read the dispatches from behind-the-scenes here. (Rate: $2,200)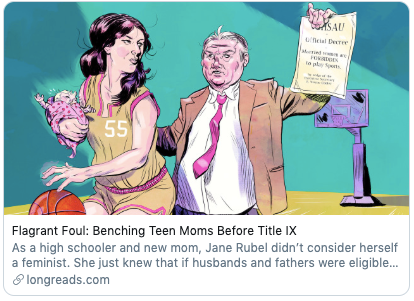 This story of a 1971 lawsuit that ultimately allowed students who had married or had babies to play high school basketball took me down so many unexpected reporting rabbit holes. I didn't think I'd find anything new by re-examining a decades-old lawsuit, but I was very, very wrong. One of my other favorite stories of the year. Read the newsletter about the reporting process here. (Rate: $2,500)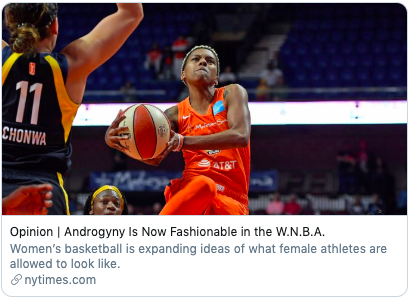 Putting aside the misleading headline, I got to write queer women's sports content for the paper of record and it was awesome. It's not really about androgyny being fashionable; it's really about WNBA players using social media to shatter long-held, heteronormative ideas about what female athletes have historically been allowed to look like. I wrote a newsletter about the piece, and about why we need more queer sports content, and you can read that here. (Rate: $500)
---
There was more: an op-ed for The Daily Beast about Kobe Bryant being an accused rapist and trying to use women's sports as his redemption arc (rate: $300); an op-ed about Hallmark's antisemitic Hanukkah movies that ran in the Washington Post and went viral, eventually landing on The Daily Show (rate: $250); a piece for MTV News on NFL player Ryan Russell coming out as bisexual and the stigma bi+ people face (rate: $500).  I wrote two of my favorite essays I've ever published, which felt incredibly vulnerable not just because of their content but because showing the world my creative non-fiction writing feels like bearing my whole entire soul. One was for Longreads, about how BDSM helped me find God (rate: $750) and the other ran at Catapult, about how falling in love with the Miami Marlins allowed me to love where I'm from (newsletter about that here; rate: $200).
Looking back at everything I wrote this year, I'm incredibly proud of this niche I've created. I'm getting to write the stories I always wanted to read. I feel so fucking lucky.  If you like my work and want to help me continue it, I'd appreciate it very much if you'd consider subscribing to this newsletter. I look forward to writing more things for you in 2020.