finding home can be a long process
writing a love letter to the Miami Marlins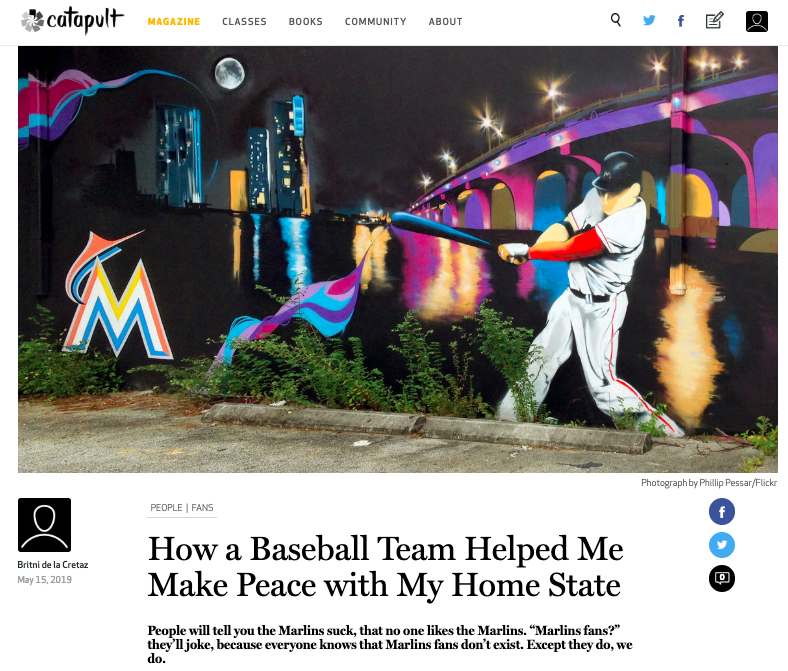 I've mostly stopped writing personal essays. I built my writing career on essays. As someone with no clips and no understanding of how to break into writing, essays allowed me to establish myself. I could crank them out easily and quickly, send them completed to an editor, and if they liked it, they'd accept it. It didn't matter if I'd never really written anywhere else; the essay I sent them proved I could write.
Eventually, however, I stopped feeling good about writing essays. There are only so many stories about my life I'm willing to put out there, and writing about other people — family members, partner, kids — requires consideration and can sometimes be a violation of their privacy. It started to feel exploitative and shallow.
The other truth is that essays don't pay very well; I wanted to make actual money, and the money was in reporting. $150 and $250 increments weren't going to cut it. So I stopped.
All this is a long way of saying that I wrote an essay. More accurately, I labored over an essay.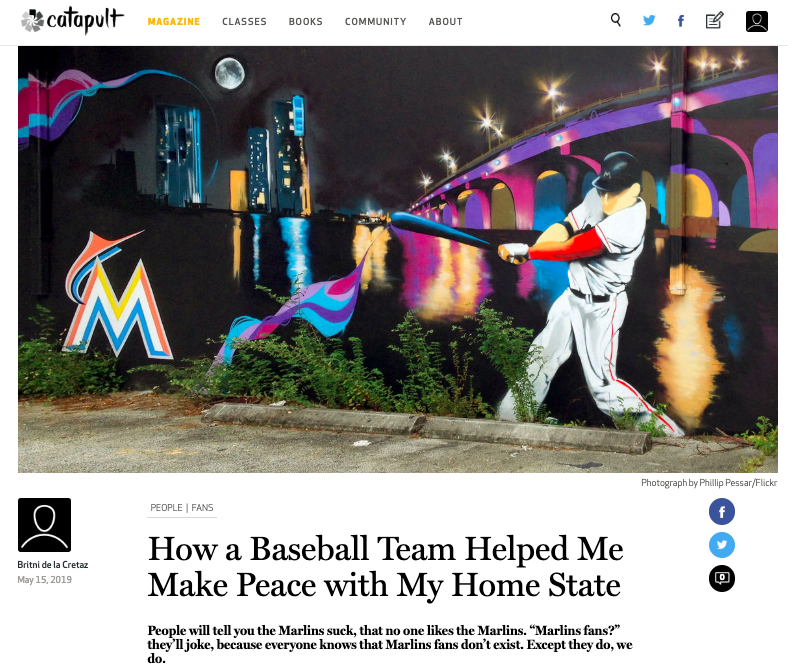 I told myself that any personal writing I do going forward is going to be because I couldn't *not write* the essay. This was one of those that started to take root during the 2017 baseball season. As I was watching the Marlins that year, I could feel my feelings for my home being transformed. I knew it was something I needed to write about.
I've avoided writing about Florida for a long time; I'm trying to make up for that (last month's jai alai piece is an example of that). As a sports writer, it seemed only natural that baseball would be the way in. I signed up for a class at GrubStreet (where I am also a teacher). It was called "Writing About Place" and was taught by Jennifer Crystal. My goal at the end of the six-week class was to have a completed essay about South Florida and the Miami Marlins.
The class began in September of 2017, so you can guess how that goal went (though absolutely everything in the opening section was written during a free-write prompt in the class).
The braided style (braided essays are where two or more narrative threads are woven together) allowed me to tell multiple stories at once. I knew that one of the threads would be about South Florida and one would be about the Marlins baseball team. Over time, there were other threads, and they varied: climate change, alcoholism, my relationship with my father. At one point, the essay was almost 5,000 words. I started to wonder where the fuck I would even publish something like this, a longform braided essay about a baseball team (my options were limited Longreads, Catapult, Hazlitt—places not known to be easy to publish with—and potentially something like The Hardball Times).
I put it down for almost a year because I felt like I was spinning my wheels. Then, this winter, I taught a class at GrubStreet called "6 Weeks, 6 Essays." One week I taught students about braided essays. I was inspired. I decided to pull this one back out and see if I could make it work. At around the same time, I saw a call for pitches from Lilly Dancyger at Catapult:
A lightbulb went off for me. Maybe a baseball team could be considered an "artifact" in this case! I polished it up and sent it over, noting that it was still over the requested word count and I knew there would have to be substantial cuts to the piece (full disclosure: Lilly and I had worked together once before, on an essay for Narratively).
Catapult has long been a goal pub of mine, and I was thrilled when Lilly said they wanted the piece. But there was a catch: not only were good chunks of the Marlins history thread going to have to be cut, the personal narrative thread would have to be almost completely re-written for it to work.
Another re-write.
I feel incredibly lucky that the staff at Catapult saw something in the writing and concept behind this piece and worked with me through several rounds of edits to shape it up into the final piece. It's one I feel incredibly proud of.
It's here that I'll admit to having a good amount of imposter syndrome. I don't generally consider myself a "good" writer; I think I'm a decent writer who tells good stories and knows how to sell my ideas to editors. Those are valuable skills, but a lot of the polish on my work is because I have amazing editors.
To have a publication like Catapult say they liked my writing is a different kind of validation than comes with reporting out big features. This essay is mostly my writing; Lilly helped shape the direction the piece was going, but the language and imagery is all mine. I've struggled to believe that I have the chops to get respect and approval from the creative non-fiction community, so publishing a piece of CNF like this, that required a lot of jigsaw puzzling and a pretty deep dive into essay craft, feels really good.
My husband approved, at least, and coming from someone who claims he never reads my work, this feedback is the highest compliment. I'll take it.