work for hire contracts are exploitative & so are the pubs making freelancers sign them
or, a pub pulled a piece down & is refusing to pay me because I won't sign away my rights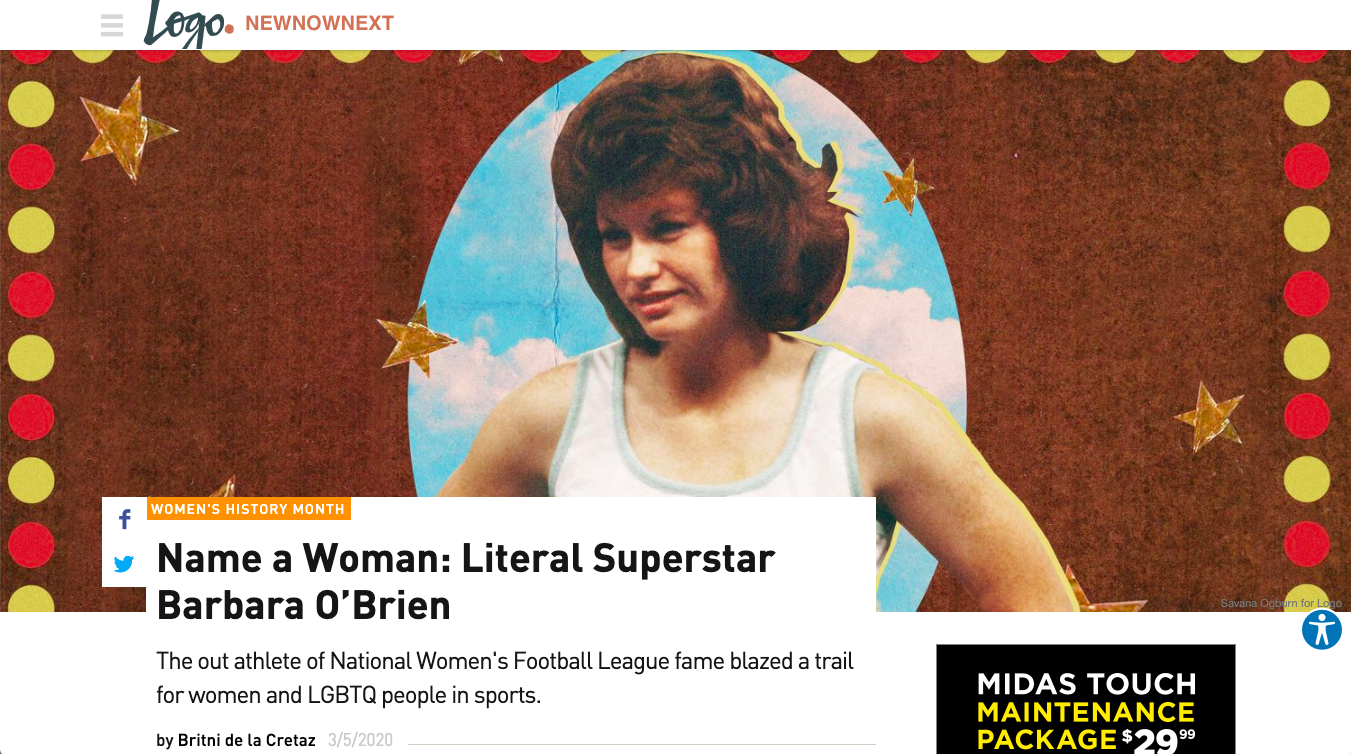 Some issues of this newsletter (like this one!) will continue to be free, but the bulk of my content won't be. If you'd like to sign up for the paid version of this newsletter—about one issue per week—you should do that! Your support will mean a ton for me as I write my book and try to establish my financial independence post-divorce.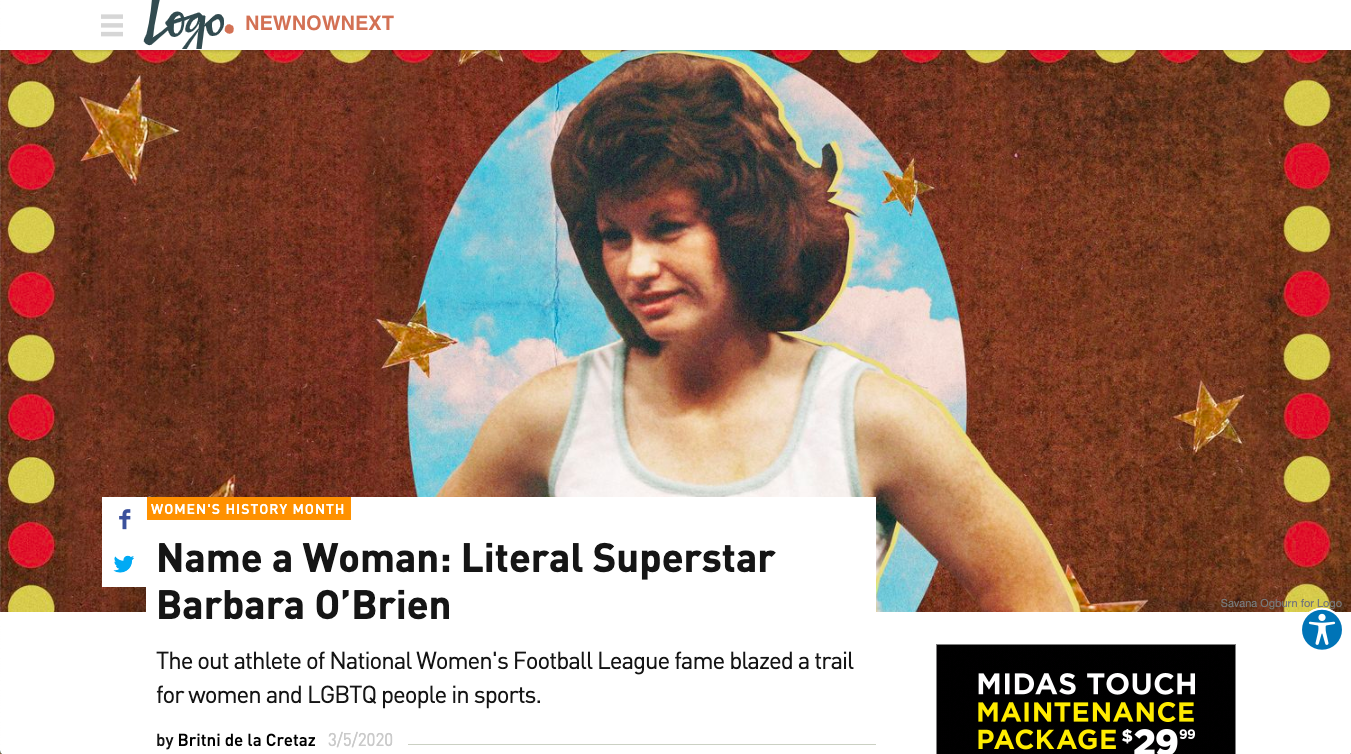 I did not want to have to write this.
I do not like to burn bridges in this industry, I don't like to put publications on blast. I especially don't want to do it to queer publications.
But what NewNowNext, a Logo publication, did to me and at least one other freelancer is absolutely not okay and I felt I had an obligation to warn other writers against working with them.
I was contacted by an editor at NNN and asked if I wanted to contribute to a Women's History Month series they were doing and if I knew of any out lesbian athletes who I might like to write about. I immediately thought of Barbara O'Brien, who will be featured prominently in my forthcoming book with Lyndsey D'Arcangelo about the National Women's Football League. O'Brien was the quarterback for the NWFL's Dallas Bluebonnets, competed against Billie Jean King on national television, and went on to open an iconic lesbian bar. We agreed to a rate ($400, less than I usually accept, but I thought of it as book promotion and I was happy to be writing for a queer audience) and a deadline and I began to write.
Shortly after that, I was contacted by someone about paperwork. He sent me a contract, an invoice template, and standard paperwork to get me set up in their system. I looked at the "deal memo" aka contract and immediately noticed that it was a "work for hire" contract.
Here is where we need to back up and talk about what a work for hire contract is and why I don't sign them — and I encourage other writers not to sign them, either. Essentially, work for hire contracts ask writers to sign the rights away to their work indefinitely. It gives publications the right to the words and to the rights to option those stories to film or televsision. As writers, the only currency we have are our ideas and our work — our intellectual property (IP). As more streaming services have meant more video content, IP is becoming incredibly valuable. Having your work optioned for tv or film is often where the actual money is.
Publications often take advantage of writers who don't know any better or are desperate for the bylines by having them sign these exploitative contracts. One option we have as writers is to ask for those contracts to be amended. I've had good success in doing this in the past, and so after NNN sent me the deal memo, I replied back (on March 3rd) asking for amendments to the contract: "I'm working on a book related to the subject matter and this is a work for hire contract which keeps all rights to this work indefinitely. Is it possible to give you first publication rights, or for the rights to revert back to me after a year?"
These are both incredibly standard — and reasonable — requests.
On March 5th, they published the piece. They had not responded to my requests for amendments to the contract; they knew I was unhappy with the terms. They pushed publish anyway. On March 9th, I followed up to see about changing my contract so that I could invoice and be paid. I never heard back.
During this time, I learned that another writer on the series, Jeanna Kadlec, was having a similarly hard time getting her contract amended (that's two of us, of five total) — a contract they sent her post-publication, never giving her a chance to see the terms before she filed her story. The results of her communications with NNN resulted in her piece being taken down post-publication and not receiving payment for the work she'd done because she refused to sign the contract.
On March 12th, after still not hearing back, I sent over my payroll forms and my invoice, sans deal memo. That's when he wrote back asking for the contract, and I referred to my previous two emails about my issues with the contract. That's when the payroll person stopped replying and had my editor, who is lovely and clearly had no power in the situation, begin communicating with me, though the payroll person remained cc'd on the thread.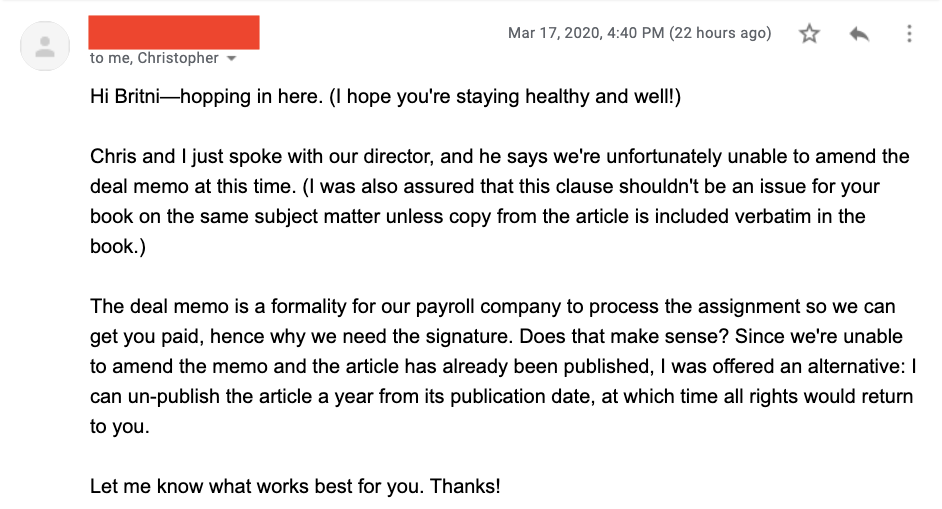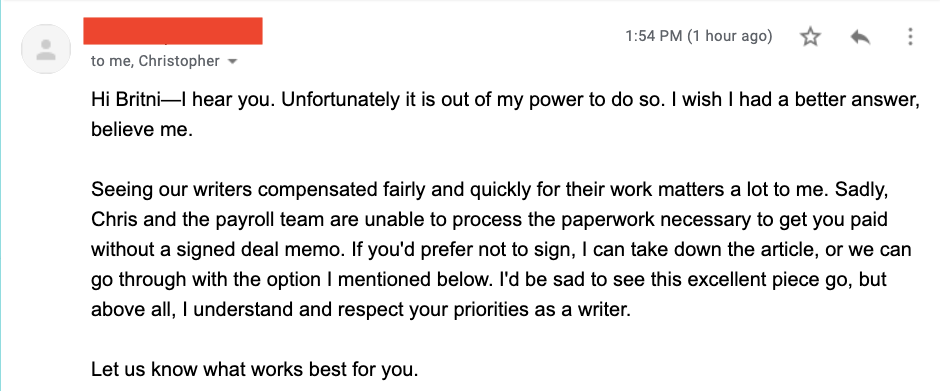 Needless to say, I am speechless. I have never seen anything like this in my 5+ years as a full-time freelancer. I told them to pull my piece, which is why it is no longer on the site. I also told them that I would be re-publishing it here, and outlining why I was doing so because I wanted to warn other writers against working with them.
I also plan to pursue my payment. Without a signed contract, the terms we agreed to in our email function as a contract; I fulfilled my end of the agreement. I expressed my wish for amendments to the contract before publication, the pub didn't respond and chose to publish anyway even knowing I had reservations about the terms. Legally, I believe I am in the right to pursue payment for the work I completed, as agreed to in my email communications with my editor, even if the piece is taken down. With losing assignments due to coronavirus, I can not afford to forgo the $400 at this time.
I am fully aware that I am burning a bridge by doing this, and I am not happy about it. But I felt like it was more important for me to warn other writers, especially newer writers and marginalized writers who are most at-risk for having their work exploited in this way, against writing for New Now Next. As a freelancer, all I have is my IP. I have to protect it. I refuse to risk my book over a flimsy guarantee in an email.
I'd encourage other writers to push back against these kinds of contracts and to join orgs like Study Hall, who can help educate you.
Below, I am republishing the story about Barbara O'Brien that was taken down. I hope you like it, and I hope you'll read more about her when our book is published.
---
Literal Superstar Barbara O'Brien
Texas Stadium, the former home of the Dallas Cowboys, is best known for the large, rectangular hole in its roof, the result of a design plan that was never fully executed. Over the course of the stadium's 37 years in operation, many different sporting events unfolded on its artificial turf. Most of these events are listed in histories of the venue and on its Wikipedia page, along with the names of football superstars who took the field there, like Hall of Fame players Troy Aikman and Deion Sanders.
Missing from most of these accounts is another legend who called Texas Stadium her home field: out athlete Barbara O'Brien, a star quarterback for the National Women's Football League's Dallas Bluebonnets from 1973–1976. Later, she became a literal superstar when she competed against Billie Jean King and other top female athletes in the first women's Superstar competition on ABC. Other gigs on O'Brien's résumé include competing in the pro golf circuit and opening an iconic lesbian bar in Dallas.
O'Brien took the field at a time when it was unheard of for women to be playing football. The NWFL was the first professional women's American football league in the U.S., existing at the ideal moment in time for a women's football league to take hold. Title IX was on the verge of being passed; King would soon beat Bobby Riggs in the "Battle of the Sexes"; the women's liberation movement was taking off; and queer liberation was being thrust further into the public sphere following the 1969 Stonewall Riots.
"It was an interesting time," O'Brien, now 66, tells NewNowNext in a phone call from her home in Millsap, Texas. "We were letting our voices be heard back then. And not backing down from some of the [negative] comments and responses to us. [We] just did what we wanted to do."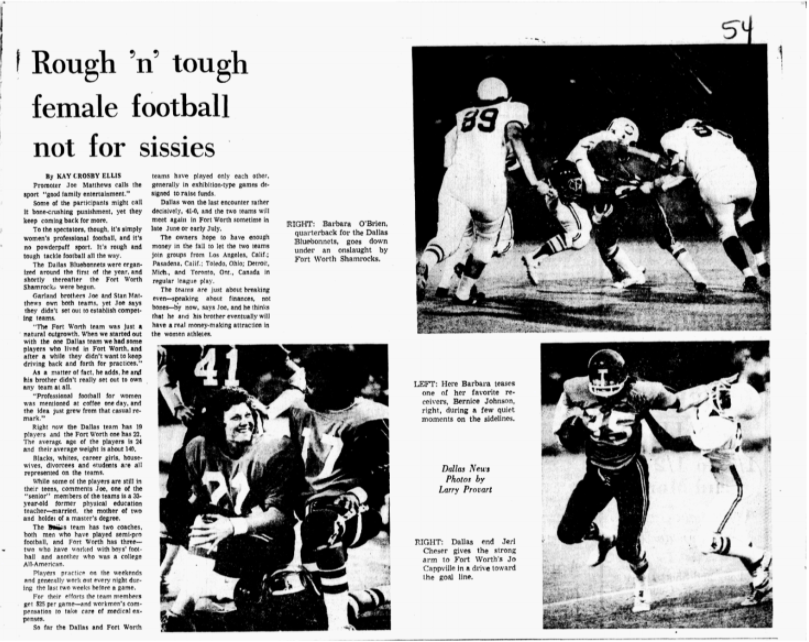 One of the things they wanted to do was play football. The Bluebonnets were started by brothers named Joe and Stan Matthews, who placed a two-line ad in a local paper in 1972. Thousands of fans came to watch the Bluebonnets play, but 2,800 people in a stadium built to hold 65,000 doesn't look like much. Still, it was surreal for these women to run out and play on the same field run ragged by their idols.
At 19 years old, the 5'9'' O'Brien made the perfect quarterback. She showed up to tryouts with an arm she honed playing QB in pickup games with the boys on her street.
It was a friend from her softball team who called O'Brien to tell her about tryouts for the Bluebonnets. Many of the women on the Bluebonnets played softball together, in leagues organized out of their city's lesbian bars. While many cities had only one or two bars for gay women, at one point in the 1970s, Dallas had five.
A majority of the Bluebonnets players came from Dallas' lesbian scene, including O'Brien. However, "we weren't that open," O'Brien says. The gay players knew who the other gay women on the team were, "but we weren't advertising our sexuality."
Still, there was harassment. "Men would just call us dykes, and, you know, 'Come here, let me show you what a real man is,' and stuff like that," O'Brien remembers. "I thought it was pretty disgusting. Right? But consider the source."
O'Brien's good looks and feminine appearance made her a favorite of the local press. The hyper-focus frustrated O'Brien, who understood football to be a team sport and wished that other Bluebonnets players received some of the recognition. After three years of playing football, she hung up her helmet. Her team—and the NWFL—would go on to fold shortly after that. She'd had three concussions and wanted to focus on sports that wouldn't hurt her body so much.
Lucky for O'Brien, she was a natural athlete and had plenty of options. In 1974, she competed against 24 other female athletes for the title of the world's first Women's Sports Superstar at the Houston Astrodome.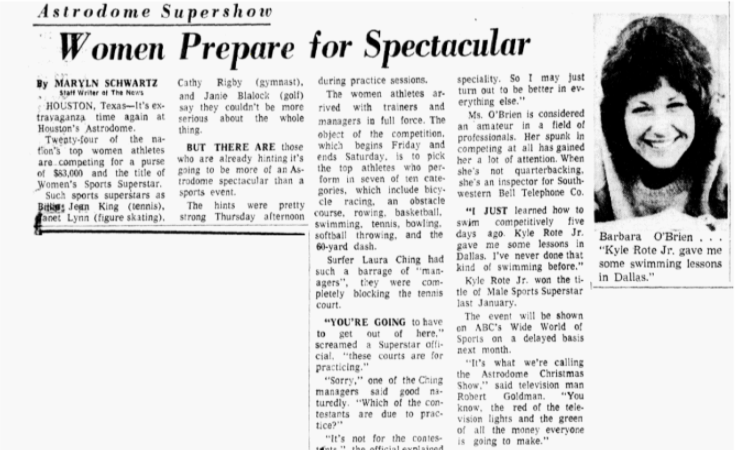 The competition required contestants to face off in seven of 10 possible categories, including bicycle racing, navigating an obstacle course, and rowing, among others. Athletes could not compete in their specialty, which gave O'Brien confidence despite having to compete against King in several events, and as an amateur in a field full of professionals. "She may be a good tennis player," O'Brien told the Dallas Morning News at the time, "but I may just turn out to be better in everything else."
The groundbreaking competition aired on ABC's Wide World of Sports. O'Brien came in third place in the first round, which scored her a spot in the finals. She ultimately came in 7th place, winning $6,000 in prize money.
After giving up football, O'Brien focused her energy on golf. She played as an amateur on the pro circuit. Her love for the sport endures. In 1989, she started the Barbara O'Brien Invitational Golf Tournament, which began as a day-long tournament with 80-100 lesbians competing; in 1991, she opened it up to include men.
In 1983, O'Brien decided to do something that would allow her to do one of the things she loved most: cultivate community. She opened Desert Moon, a new Dallas lesbian bar, which would operate for a decade. Her love of sports shaped the events and groups Desert Moon hosted, including golf and tennis leagues.
O'Brien also found a passion for running charity golf tournaments to raise money for social justice causes. Her first tournament raised funds for the Genesis Women's Shelter, a Dallas-based domestic violence organization. In 1983, she hosted the first Life Walk for AIDS, which raised $186,000—a huge deal at a time when the disease and those battling it were incredibly stigmatized.
In 1996, she received the Kuchling Humanitarian Award from the Black Tie Dinner, which "honors individuals who have made extraordinary gifts of their time and talents on behalf of the LGBTQ community."
A lot has changed for female athletes in O'Brien's lifetime.
"I was in a school that had nothing to offer for women," she says. "I was so glad to see Title IX happen. I just wish it had happened a little sooner, you know, for a lot of us that loved sports."