I'm sorry but I hate the new Australian WBB unis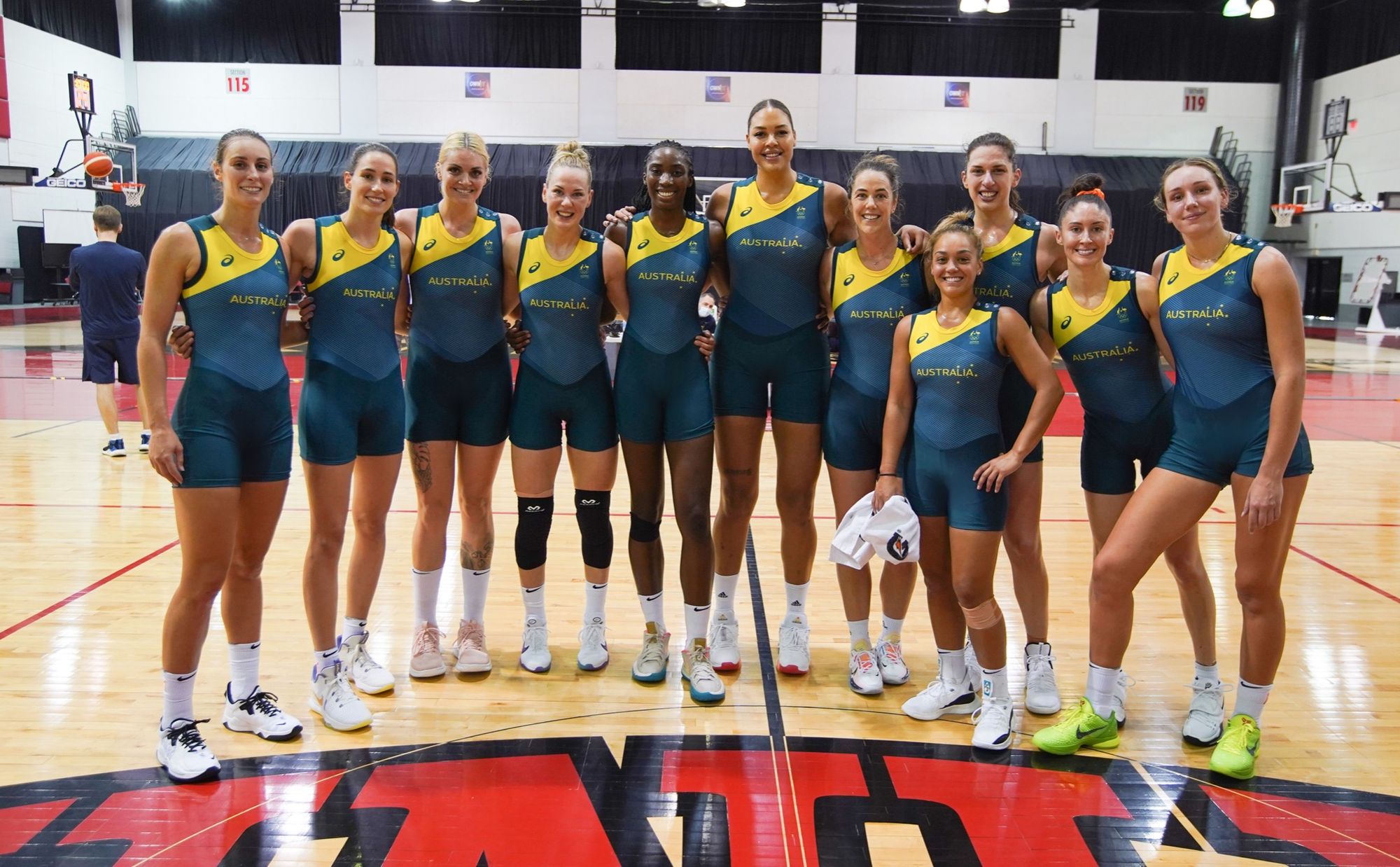 Hello! As usual, I'm going to annoy you by reminding you that the book I co-authored, Hail Mary: The Rise and Fall of the National Women's Football League, is available for pre-order! If you haven't already, I'd really appreciate it if you grabbed a copy. You can pre-order here, with links to anywhere books are sold, or order a signed copy from Silver Unicorn Bookstore in Acton, Massachusetts.
If you're not in the publishing industry, you might not know how important pre-orders are for authors. They're super important! A.E. Osworth talked about this on the Broads and Books podcast this week, and I highly recommend giving it a listen.
---
I'm coming out against the basketball bodysuits
This week, the Australian Opals, the country's national women's basketball team, debuted new uniforms ahead of the Tokyo Games. The uniforms are a nod to the team's history, bringing back the bodysuits that the team was famous for wearing during some of their most dominant years.
"The Opals have such a rich tradition of being successful, and when you see those images of those successful Olympic campaigns and successful World Championship campaigns, they're in bodysuits," Australian Opals captain Jenna O'Hea said. "We all strive to be an Opal and wear that bodysuit."
The bodysuits debuted at the Atlanta Olympics in 1996, where the team won its first Olympic medal (bronze). They were retired for the last two Games, in London in 2012 and Rio in 2016. It was the players who reportedly lobbied to do away with the bodysuit then, and it was apparently the players who lobbied for it to return in 2020.
"It was a big push from us as a playing group to get back to that, continue the legacy and inspire little girls to wear bodysuit at a world championships or Olympics and join an illustrious group of Opals," Opals leadership group member Katie Rae Ebzery told the Sydney Morning Herald.
"I've been fighting for the return of the bodysuit for the past eight years," Opals star and WNBA player Liz Cambage wrote on Instagram, in a captain that has since been edited. "You are welcome." (Reports surfaced on Thursday that the Opals are debating whether Cambage will be removed from the team for the Tokyo Games, following an incident in a closed-door scrimmage with the Nigerian team.)
I'm glad that the players are happy with these uniforms, and they report that they are easy to move and play basketball in. However, these bodysuits fall into the category of what I would deem "unnecessarily gendered" uniforms. While they may be more practical than the skirts that the women of the All-American Girls Professional Baseball League were forced to play in (another big difference; they didn't have a choice in their uniforms), they are still unitards that are clearly designed as more feminine than the shorts and singlets that the male players wear.
When I asked Twitter what they thought of the uniforms, an Australian trans man weighed in with a perspective I hadn't considered, but one that I think is incredibly important. "I think I'm extra bitter because basketball was one of the few sports where the girls uniform is still quite masculine and loose, so it was a bit of a dysphoria haven pre-transition," he replied. "And then our national team (historically better than our men) is SKIN TIGHT? NO."
It reminded me of things some of the athletes I interviewed for Sports Illustrated had told me when we talked about how sports could be more welcoming for trans people. Layshia Clarendon told me that they always felt best when wearing their ball clothes because they were something she didn't have to think about, and that didn't single her out from any of her teammates. Meanwhile, Quinn mentioned that they wished there were more varieties of kits offered, to provide more gender-affirming options for players.
Sports are hard enough for trans athletes as it is. There are some sports that are going to continue to have incredibly gendered uniforms, like gymnastics and figure skating and swimming. Basketball is one that doesn't need to. And because we know there are trans athletes playing who aren't out, and that many athletes are non-conforming in their gender expression as it is, I just don't see why unitards need to make a comeback on the basketball court. I can't imagine that butch women would be all that comfortable wearing this uniform either, and there is no dearth of those in the world of women's basketball.
Why make sports exclusionary when you don't have to?
---
WNBA League Pass is a Nightmare, It's True
For Business Insider, I went long on why the experience of watching the WNBA on League Pass sucks, and why the viewer experience issues are a problem for a league that is fighting for legitimacy.
Just before the start of the season, League Pass relaunched a huge redesign: fans could watch up to four games at once, statistics appeared on the screen, and there was a library of games going back to 2015. But the overhaul failed to address several key user experience issues, including volume balance.