i was plagiarized; can I say I've finally made it?
read on for gay sports(TM)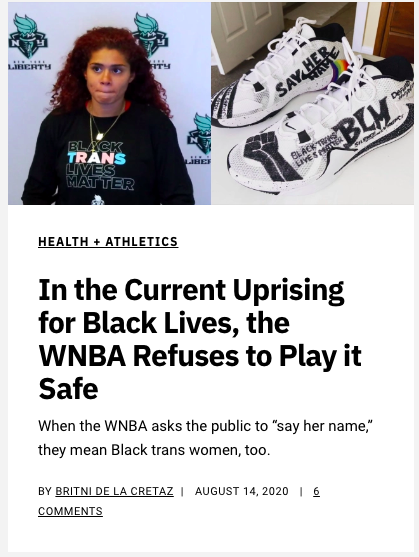 Hi, friends!
Just popping into your inboxes to say hello and to share some of my recent work with you. I'm deep into the final push for getting Lyndsey's and my book to our editor, so my freelance assignments have been sparse. Even so, I haven't left the gay sports beat.
Last Friday's Autostraddle column was more serious than my first two, and I'm thrilled that I get to do things like make lists of the gayest WNBA teams while also spotlighting things like the trans-inclusive activism of the league.
While I wrote in a previous newsletter about noticing Rem'mie Fells' name among the others shouted out during the introduction of the WNBA's #SayHerName campaign, I took a closer look at how teams are lifting up Black trans women throughout the season.
For the piece, I spoke to Layshia Clarendon of the New York Liberty about the team's "Black Trans Lives Matter" shirts. I also spoke to Stefanie Dolson and Gabby Williams of the Chicago Sky about their partnership with Brave Space Alliance, a Black-led, trans-led LGBTQ center serving Chicago's South Side. If you read anything today, I'd appreciate if you read the column and check out what kind of work Brave Space is doing and donate to them if you can.
"For ages, women have been holding it down for all sorts of different identities, so I'm not surprised that it took a women's league to actually bring awareness to what's going on to the trans women right now in America, especially Black trans people as a whole. This league is the only one talking about trans women, but… it can't possibly be the only league that knows that trans women are getting beheaded in the streets. So it's very warming to see someone, in this entertainment and sports realm, really step up and be like, 'Look, this is something we need to be talking about.'"

- Jae Rice, Outreach and Communications Coordinator for Brave Space Alliance
For the Daily Beast, I profiled the Boston League of Wicked Wrestlers, known as BLOWW. They're a gender-inclusive wrestling league that centers queer and trans identities, stories, and bodies.
This piece was over six months in the making. Back in February, my partner and I went to BLOWW's Valentine's Day show, and I hoped to be able to write a story about it. Here is me in the bathroom at the show and I'm only posting this photo as an excuse to show off the killer blazer I wore that night:
The show was amazing, I pitched it to a glossy women's mag after the editor asked me for pitches, but I didn't think they'd take it because it wasn't a story about women. Some of the fighters are women, but others are non-binary or trans men, too. To my surprise, the editor commissioned it as a feature for big money. But just a week or two later, everything changed.
The pandemic hit, budgets were slashed, and my piece was killed. I didn't know where to pitch the story next, especially as publications were only interested in corona content. So when BLOWW adapted their shows for the COVID-era, it gave me a peg to be able to keep pitching it because the league was still relevant and doing digital wrestling shows.
The Daily Beast accepted it and seven months after I started pitching it, it lives in the world!
But one of the performers emailed me this morning to let me know that my work had been cribbed. A website called Queer Guru, which bills itself as "original and curated content," had straight-up plagiarized me (as someone on twitter said, "the word 'curated' in their bio is pulling a ton of weight").
After I called the site out on Twitter, they blocked me.
For those of you who are not in media, a quick explainer for you: curated (or aggregated) content is when a site takes news or reporting done by another publication and writes about it, summarizing the work done by another person. It's something I've had to do, and I have a high threshold of compassion for folks curating content because it's harder than it looks and it's all-too-easy for it to hew a little too closely to the original without intending to.
But when you curate content, there are several things that need to be present to make it not plagiarism: 1) cite the name of the publication where the work originally appeared; 2) link back to the original work; 3) summarize the work but don't directly quote the original piece and if you do directly quote the original piece, put it in quotation marks and attribute it. The piece (now removed after numerous people called them out) did none of those things.
I'm especially frustrated that a queer site felt it was ok to steal another queer person's work. It's gross. All they had to do was add a link back to my work and cite it and instead, they blocked me and anyone else who called them out.
I'm glad they took it down and now that I've been plagiarized maybe I can say I've really truly made it. It is a great piece.
From the article in @thedailybeastAugust 16, 2020
"It just goes to show that if you don't expect to be hate-crimed at any minute, there's a lot of people that really want to respond to and resonate with the art of pro wrestling, people that maybe don't feel like there's a place for them as a spectator as well as an athlete."

-Cherrill from BLOWW