I find it hard to keep caring about the "first" woman
also I wrote a shitload of things this week
Things feel bleak lately. I'm seeing many people talk about hitting a pandemic wall and I'm there, too. I'm feeling emotionally raw, isolated, lonely, and burnt out. I'm trying to reclaim some of my joy by taking selfies every morning. I'd love it if you could leave a comment or reply to this newsletter with things that are bringing you even a modicum of joy right now. I could use it!
If you're not following me on Instagram yet, you can do that here! I'm @britnidlc.
---
I'm over talking about women's "firsts"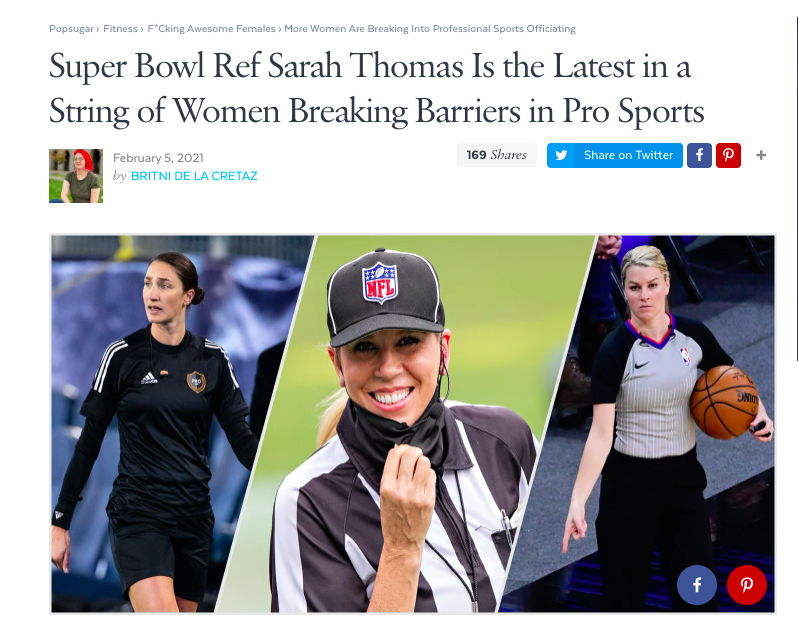 Sunday's Super Bowl granted Tom Brady his seventh championship and made the discourse around him even more insufferable. The big story from the event, however, was that it was groundbreaking for women in football.
Last year's Super Bowl saw a "first" in the first woman to coach in the championship with Katie Sowers on the sidelines for the San Francisco 49ers. This year there were a couple of other "firsts:" Sarah Thomas became the first woman to officiate a Super Bowl (which I wrote about for POPSUGAR and sold from a tweet!), and the Buccaneers' assistant defensive line coach Lori Locust and assistant strength and conditioning coach Maral Javadifar became the first women coaches ever to win a Super Bowl.
This progress is important, of course. I know that as well as anyone, after spending the last two years working on a book about the erasure of women from the narrative around the game of football. Football is often considered a men's game and, when it comes to the NFL, women are having to elbow their way into a league that was not designed for them. There is literally no place for them in it (though it's interesting to note that, while generally thought about as a men's league, there is actually no rule saying the NFL is only for men; in theory, anyone of any gender should be able to be drafted into the league). Nowhere was that more evident than in the photos of the officials' locker rooms.
If you look closely, you'll see that the door on the right says "officials" and has a sign saying, "ABSOLUTELY NO VISITORS" on it. The door on the left has a sign that says "female officials." You know, "officials" and "female officials," the two genders. Twitter was quick to (rightfully) drag this setup, but it made visible an issue that most people don't even know exists, one that is a huge barrier to women breaking into professional sports officiating — there are no locker rooms for them.
I mentioned this in 2018 when I wrote about why there has never been a woman umpire in Major League Baseball for Bitch Magazine; some minor league ballparks are starting to add them when they renovate (there are currently two women umpiring in MiLB) but it's a quite literal example of how there is no place for women among professional sports officiating. They are an afterthought.
Another example is the fact that there is no equipment or clothing made in their sizing, something that's beginning to change but even Thomas' NFL referee uniform had to be custom-made (I wrote about this in 2018 for The Atlantic). Ila Valcarcel, a former umpire, literally drives around the state of Florida meeting woman umps in hotel rooms to custom mold their equipment with a heat gun.
And while it's heartening to see the progress women are making in the field, I'm cynical about it, too. There is evidence that the reason diversity and inclusion efforts to recruit women into the field of officiating are happening at all is because it's considered a dying profession and there aren't enough young people making careers out of it anymore (I addressed this in a 2018 piece for Bleacher Report). But how do you recruit women into a field that has no changing rooms for them, no uniforms for them, and hardly any examples for them to aspire to be like? How would they know it was even an option? Why would they want to subject themselves to the constant dismissiveness, microaggressions, and erasure they will undoubtedly experience?
While I'm glad to see women continuing to break barriers, I'm also tired of celebrating these firsts because they so often fail to come with meaningful institutional change, making these women exceptions rather than rules (worth noting that Sowers is not returning to the 49ers after her contract expires). Is it really progress to have more women entering fields with systemic misogyny issues if they're not accompanied by a complete overhaul of the sport's culture itself? I'm not convinced it is.
---
I wrote a lot of things this week
It's feast or famine in hashtag freelance life and right now, it's a feast. On top of all this, final edits for the book I co-wrote with Lyndsey D'Arcangelo are due this week too, nbd. In addition to the piece for POPSUGAR mentioned above, here are all the other things I wrote over the past week:
---
and finally, some sports-related queer thirst for your week
And in queer sports content, GQ unveiled these images (and accompanying story) of Megan Rapinoe and Sue Bird for their "Modern Lovers" issue. The photos are incredible and the accompanying story by Emma Carmichael is very good, too.
There is no precedent for the pastel-haired international soccer star who courted the ponytailed all-American point guard and went on to live happily ever after. For now, the "cross-sport lesbian power couple" template begins and ends with Megan Rapinoe and Sue Bird. And they are not just stars in their sports—they have set the standards to which future athletes will be held. Between them they have more championships and gold medals than most couples have steak knives: At 35, Rapinoe is one of the most decorated American soccer players of all time, with two World Cup titles and an Olympic gold medal to her name. Bird, 40, is considered one of the greatest basketball players of all time, having won multiple championships at every stage of her career—from her two championships during her fabled UConn days to her quartet of rings with the Seattle Storm and four Olympic golds with the national team…

"I'm fucking sick of convincing people that I'm great at my job," Rapinoe says. "Fucking clearly I'm great at my job! We did everything on the field. We pretty much did everything off the field. We're good role models, you know? We are profitable. For them to consistently dig their heels in on an issue [where] it's very clear where the world is going is a colossal waste of time."

Every person I interviewed for this story is an LGBTQ+ professional (or formerly pro) woman athlete. All seemed to over-explain their work—Bird taking pains to describe why she and her fellow WNBA stars had to play in Russia, Harris and Krieger making sure I understood they'd spent many years playing with Rapinoe, even King laying out how she and the Original 9 of women's tennis fought for better prize money in the '70s. The tendency probably comes along with being a conscientious, media-trained athlete and public-facing woman, but I also wondered if the instinct was learned: from having to make the case for yourself constantly, from being forced to convince the skeptical that what you do has merit.